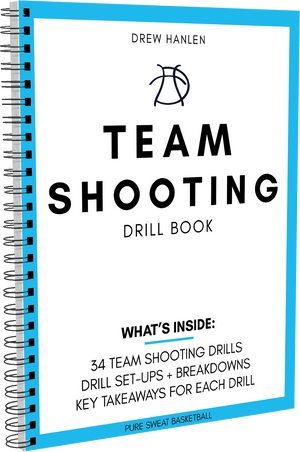 Team Shooting Drill Book
As a coach, it is important to prepare your players for every situation that they will see in games. It also is important to help them develop confidence shooting the basketball from the spots on the floor that they will shoot in games. While most coaches know how valuable shot-makers are, very few coaches help their players develop proper shooting mechanics and very few coaches get their players enough game shots in practice.
In fact, I studied some of the top high school programs and found two interesting statistics:
On average, high school players shoot 13 shots per hour in open gym play.
On average, high school players shoot 32 shots per hour in practice (including shooting drills).
In a perfect world, all of your players would make 100-250 game shots per day on their own, outside of practice, but the reality is that some of your players do not put in any additional work outside of the team's practice requirements. Because of this, it is important to get your players game shots at game speed during practice. The drills in this book will help you do that.
Our Team Shooting Drill Book provides 34 purposeful drills that I have created or acquired throughout my career as a player and skills coach. 
This coil-bound book is easy to bring with you to any practice or workout!